Manage episode 358001497 series 2899764
על ידי
Douglas Jacoby
התגלה על ידי Player FM והקהילה שלנו - זכויות היוצרים שמורות למפרסם, לא ל-Player FM, והשמע מוזרם ישירות מהשרתים שלכם. הירשמו כדי לעקוב אחר עדכונים ב-Player FM, או הדביקו את כתובת העדכונים באפליקציות פודקאסט אחרות.
For additional notes and resources check out Douglas' website.
Why is this a "royal" law? It's the Law of the kingdom, law of king for his people.
It's "Love your neighbor as yourself."
James's readers / hearers are called to stop showing partiality.
This is not mere suggestion, but a law! It's a law of love, the perfect law of freedom.
It dictates the sort of people we are, and how we treat one another—not just outsiders, but fellow subjects of the king.
Mercy flows out through us. We are embodying the attitudes / behaviors of Matt 5:21-48.
Re: v.2:8:

niversal human teaching? Usually it's the silver rule that prevails, not the golden rule. Rabbinic Judaism: "What you hate do not do to your neighbor. That is the essence of the Torah; the remainder is commentary" (Hillel, b. Shabbath 31a). Classical Buddhism: "Hurt not others in ways that you yourself would find hurtful."— Udanavarga 5:18 [Silver Rule]. Confucius: "Never impose on others what you would not choose for yourself." — Analects XV.24 [Silver Rule]. For more examples from among the religions and philosophies of the world, click here.
Paul teaches the same in Gal 5:14 and Rom 13:8-10.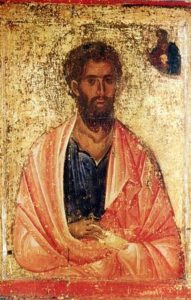 Lev 19:18. Is this a u
Re: v.9, the sin in question is favoritism.
Re: vv.10-11:

Deut 27:26.
We are lawbreakers even if we break only one commandment. (Think of one crack/hole in the windshield.)

Re Vv.12-13:

Christians are judged by the supreme law, the law that sets us free: the law of love.
A failure to love the poor makes us transgressors—showing favoritism to the rich—we are actively violating God's law.
Here is an echo of Matt 5:7.
Judgment without mercy!
Finally
Looking into the mirror has not led to repentance—hence the severity of James's scathing rebuke. They have failed to live by the royal law in their Christian community.
Nor was his rebuke given hypocritically. He was, after all, "James the Just" (widely respected by Jews and Christians alike for his compassionate care for the needy).
Next: Cold Deeds with Warm Words
…
continue reading
510 פרקים