Manage episode 358449555 series 2899764
על ידי
Douglas Jacoby
התגלה על ידי Player FM והקהילה שלנו - זכויות היוצרים שמורות למפרסם, לא ל-Player FM, והשמע מוזרם ישירות מהשרתים שלכם. הירשמו כדי לעקוב אחר עדכונים ב-Player FM, או הדביקו את כתובת העדכונים באפליקציות פודקאסט אחרות.
For additional notes and resources check out Douglas' website.
Luther's translation of the N.T. (1522)
Separated 4 books from the other books of the N.T.—almost an appendix.
Other books he removed to the end were Heb, Jude, Rev—but at least he included them in the translation.
He also made a tweak to Rom. 3:28 (allein durch den Glauben—adding the word "alone").
He could not accept Jas 2:24. At least he was honest about this doubt.
Why did Martin Luther have such a low opinion of James?
He liked James in some ways: "I praise it and hold it a good book, because it sets up no doctrine of men and lays great stress on God's law." After all, he did include it in his translation – just not with the 23 NT books he thought were inspired.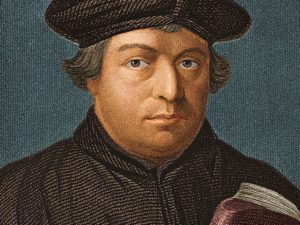 Compared to the legitimate NT books, James is "an epistle of straw."
He said James contained nothing of the gospel.
It is not of apostolic authorship. [All N.T. documents are apostolic, but many are not written by apostles: Mark, Luke, Acts, Hebrews, James, Jude.]
James opposes Paul and mixes up law and works. It is erroneous vis-à-vis faith and works.
"Many sweat hard at reconciling James with Paul ... but unsuccessfully. `Faith justifies' [Paul's teaching] stands in flat contradiction to `Faith does not justify' [James 2:24]. If anyone can harmonize these sayings, I'll put my doctor's cap on him and let him call me a fool." [Yet Luther was reading his own theology into the text and thus finding a "contradiction."]
There is no mention of the passion or resurrection.
Jesus is mentioned only twice—but James "teaches nothing about him." [Actually, as biblical scholar Rudolf Kittel (1853-1929) observed, "No writing in the NT outside the Gospels is so interlaced with reminiscences of the words of the Lord as [James]."
Lessons to learn:
Don't add or subtract to/from God's word.
Be honest about the Bible, including the parts that trouble us. Many people aren't as honest as Luther. They leave James in the Bible, but still reject what Scripture says. Others claim that Paul and James are opposed. They may accept Hebrews as scripture, but rationalize away the 12 passages that refute "once saved always saved."
Shouldn't we actually be surprised if we agreed with everything in God's Word? Isn't the one whose thoughts and ways are far, far above our own more likely to give us a revelation which sometimes diverges from our expectations and opinions?
Let's not be too quick to judge—to be dismissive of biblical teachings, or even biblical books, where they rub us the wrong way.
A key verse in regard to the faith/works/justification issue is James 2:22. (This is a good memory verse!)
Next: Reading of James in The Message
…
continue reading
508 פרקים